Hi, Luca here
I am the new Intern for San Juan Expeditions.
I wrote this story to show you how to get into ski mountaineering and hopefully inspire you to ski the classic mountaineering lines you have been dreaming of. Goals like skiing Wilson Peak and Mt. Sneffles are actually much more achievable then you might think.
"It all started the first time I stepped out the gate to highlands ridge"
The term ski mountaineering is confusing, if your skiing you probably climbed up a mountain to do so, the context is important. What I'm talking about doesn't necessarily involve racing in skin-tight spandex and ultralight skis, but really if you choose Rando skies more power to you, that sounds cold and sketchy. I'm talking about ski mountaineering in terms of self-powered missions to ski technical steep descents off peaks. I remember a when I first started looking at the peaks around Aspen in a different way constantly wondering if they were ever skied and how impossible it all seemed. Even with strong background in skiing, the idea of climbing peaks to ski them carried a weight; there was so much to learn, skiing in the backcountry, avalanches, rockfall, how to use ice axes and crampons. Everything seemed so remote and scary but if didn't make the jump I would have missed out on a lifetime of experiences. I hope this story helps you follow in my footsteps.
I was lucky to spend most of my childhood in Aspen, Colorado skiing for the Aspen Valley Ski Club (AVSC) on the Big Mountain team. The big mountain discipline is the epitome of freeride skiing, completions take place at ski resorts known for steep skiing like Aspen Highlands and Crested Butte on a closed-off section of the most technical cliffy terrain available. In a big mountain competition, you get to ski any line you choose and are judged in five categories fluidity, control, style, line choice, and jumps. Skiing as fast as you can, jumping off cliffs, and learning new tricks takes a toll on your body. A few hard falls on packed out resort runs is all the push you to seek out the untracked faces, chutes, and couloirs one can only find in the backcountry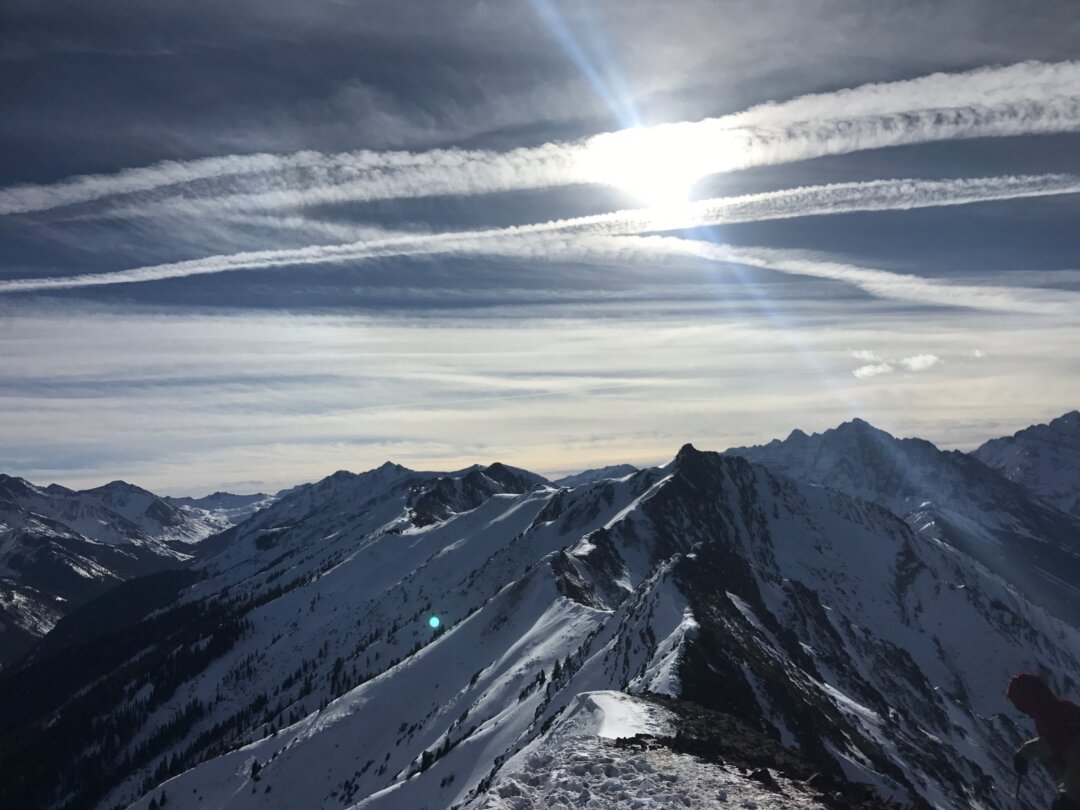 It all started the first time I stepped out the gate to highlands ridge on Aspen Highlands. Off the top of Highlands Bowl, you can access some of most insane ski mountaineering lines adjacent to a resort anywhere in North America. We stepped out the gate and immediately begin skinning across the jagged ridge connecting the summit of the bowl to the Five Fingers. I followed as my friends made easy work of the "no fall zone ridge", where slipping backward on your skins could cause you to go for an epic fall; most people choose to boot there for that reason. Our objective was to ski Five Fingers down to the road.
I had never seen such a long descent of untracked powder in my life. One at a time we pointed it skiing as fast as we could to next point where the leader got tired and stopped in a safe spot to watch the rest go down. I couldn't believe how much vertical we were skiing for just an hour and thirty minutes of hiking. We made huge turns down the ridge speeding towards Aspen Mountain and the Castle Creek valley leaving nothing but tracks and huge clouds of cold smoke. That was the moment I realized that all I wanted to do for the rest of my life was make turns like that.
So I moved on to bigger objectives: "Coors Face" on Wilson Peak 14,023′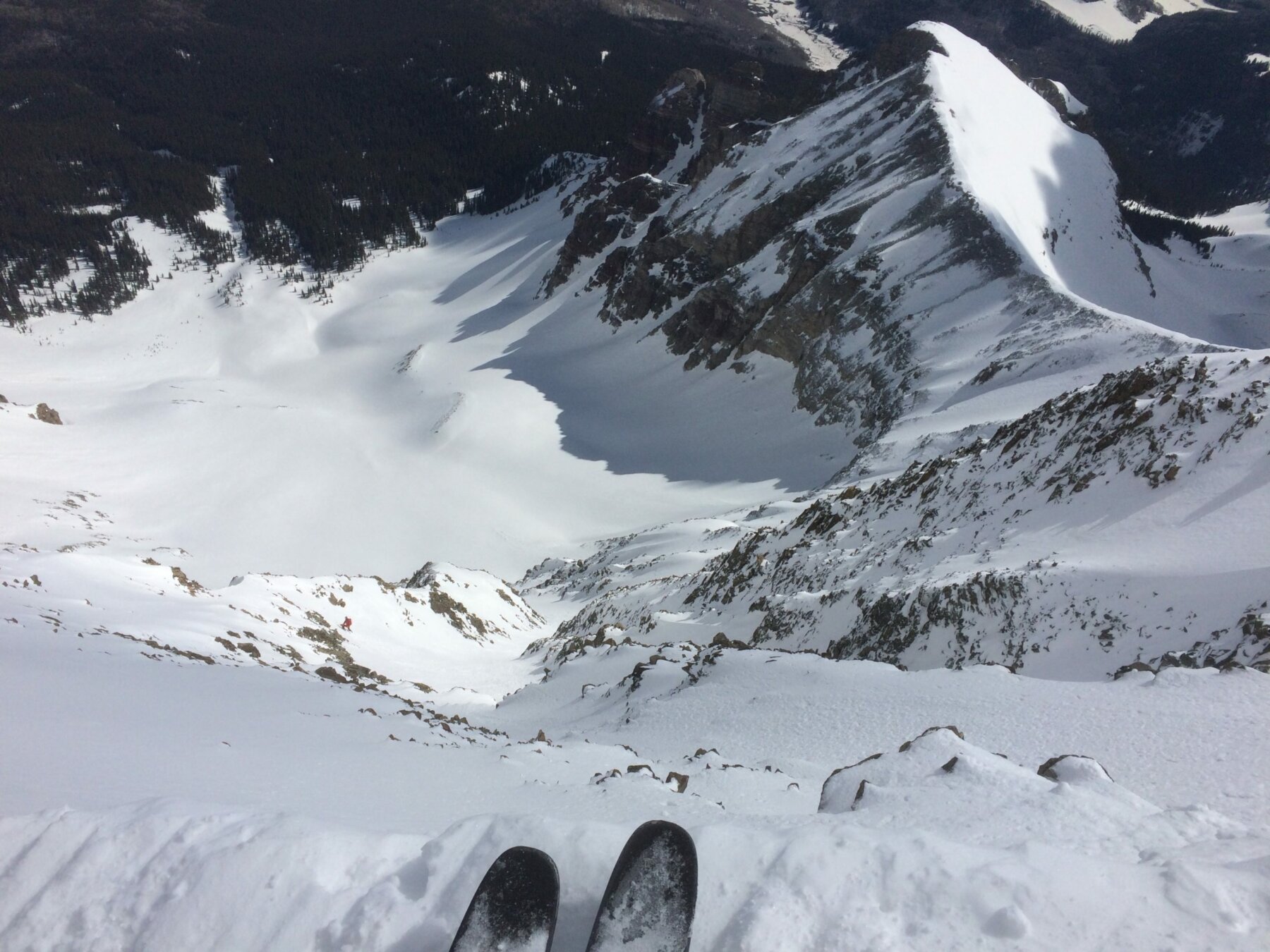 After skiing Five Fingers, which is simply a massive avalanche path, I realized that my Level 1 avalanche knowledge was not really enough for me to be comfortable making decisions. As a consequence I took my AIARE level 2 with Aspen Expeditions just a few days later and my transition from Big Mountain competitions to sole shredding in the backcountry was solidified. I began the process of learning from the mountains, I studied the snowpack, made mistakes, learned from them, and as I became more confident I was able to push further out and higher up. I took more avalanche classes, became a snow nerd, learned from mentors and skied peaks that I never thought possible in powder conditions.
Doing the homework allowed me to ski classic lines off 14ers.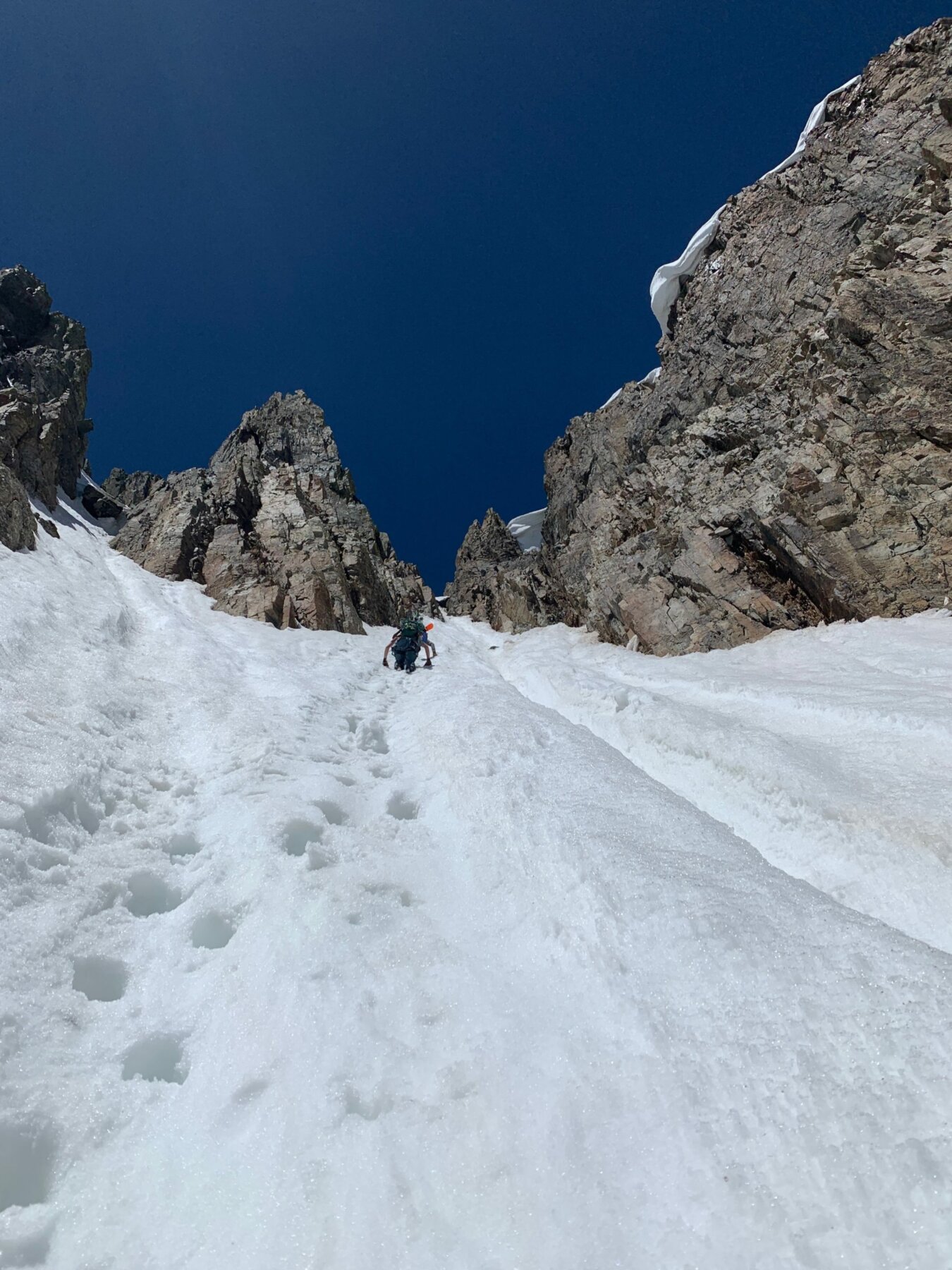 I traveled around the country searching for new chutes, faces, and peaks to ski going to places like Jackson Hole, Wyoming, Salt Lake City, Utah, and Stanley, Idaho. Only to find that some of the best skiing is right here in the San Juan mountains with easy access from Red Mountain pass out of Durango; a hidden gem in a tricky continental snowpack. The San Juans had true ski mountaineering lines, and options that could satisfy a lifetime of skiing.
After living here for almost two years my new objective is to explore first descents in the Weminuche Wilderness. A quick search of ski lines in the Weminuche will take you to the 14ers in Chicago Basin, which are only a fraction of what's out there. True glory is hidden in the 13ers that can only be accessed from long human-powered approaches dragging a sled full of supplies for a multiday trip. If you try to find information about these kinds of trips online, you will be left scratching your head. The only information that can be found is through die hard locals and from staring at a map or Google Earth trying to fill in the blanks.
Do you Want to learn how to become a ski mountaineer?
Sign up for the Spring Ski Mountaineering Camp and come ski with IFMGA guide Tico Allulee and guide Jack Klim. You will learn the skills that took me years to acquire through mentors and friends; in just three days.
If I had gone through a program like this, I think I would have avoided a lot of mistakes early on. The Spring Ski Mountaineering Camp (March 8-10 and March 12-15) is a three-day course for the adept backcountry skier that wants to progress into skiing 14ers, classic lines in Chamonix, or even the more technical routes in the Fifty Classic Ski Descents book. You will learn just about all of the technical methods, advanced tour planning, and travel techniques to make classic lines safer and more comfortable.